We worked with Kyoto Localized, a travel service agency offering free walking tours around Kyoto, Japan. This was the second time we worked with them on a content project. Our first project was for their Tokyo-based free walking tour website. When they started offering tours in Kyoto, they figured they need content to boost their organic visibility. The website has been around for about a year before we worked on it, but it had nearly zero traffic, no backlinks, no authority whatsoever at all.
Our Content Strategy for Kyoto Localized
Since the client had a good grasp of their customer profiles (based on their Tokyo-based tours), we adopted them. Our content strategy for Kyoto Localized kicked off with a full content audit and content gap analysis of their website to evaluate the performance of their existing blog posts and ferret out topic opportunities that may have been missed. We also looked at their top 5 competitors to see what they are doing, how they are doing, and where we can improve from there.
A comprehensive keyword research followed to find out the most valuable keywords the client wants rank for. We did a keyword mapping with a goal to group keywords that would mesh well together. As a result, we were able to come up with not just a laundry list of topics but also a few topic clusters to maximize all the important keywords through the keyword groupings.
One by one, we mapped the topics to match the user journey. And of course, our content strategy services are not complete without a content calendar. We agreed to produce four blog posts for the site per month.
Content Marketing Amidst the Pandemic
Our project officially started in February 2020, in the middle of a pandemic when the travel industry was annihilated. Prior to the project, Kyoto Localized had a few blog posts published on their website. It had 20-30 views per article. When we came in, the site's organic traffic started to pick up a little bit. It was slow on the first month but normal for any content marketing campaigns.
However, travel bans and lockdowns started mid-March in almost all parts of the world, including Japan where my client is based. Due to the uncertainties brought by the global pandemic, especially to the travel industry, my client decided to pull the plug on our project on April 1. Upon realizing that travel restrictions would become the new normal moving forward, the client came back on May 1st to continue the project.
The Turning Point
When we came back, we started ranking for thousands of relevant keywords. We continued implementing our content strategy and employed dozens of keywords we got from Google Search Console.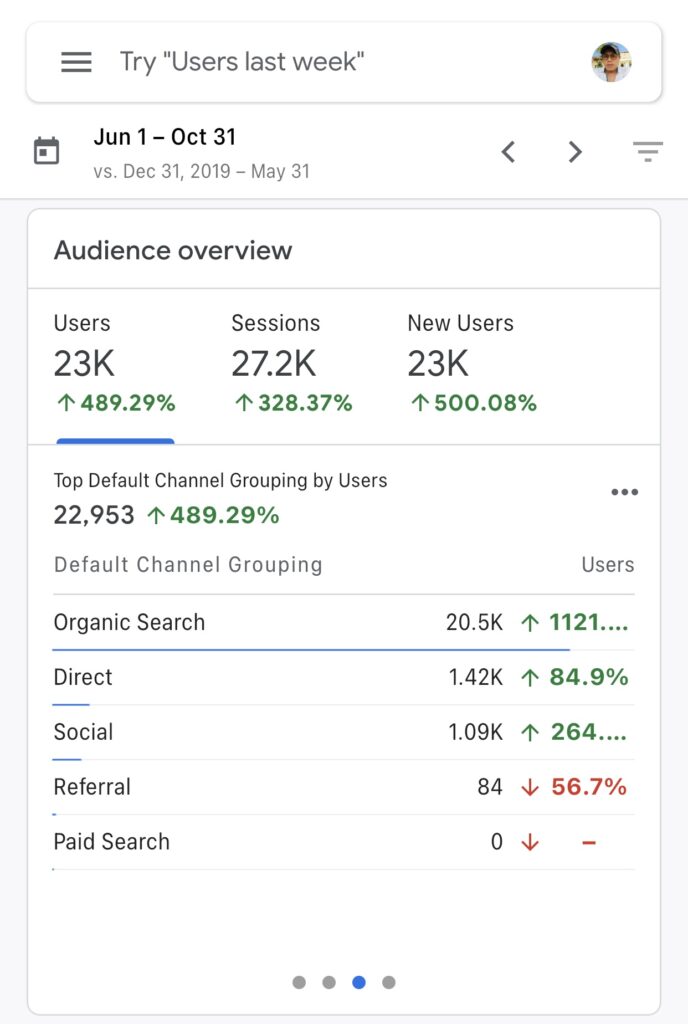 Between June 1, 2020 and October 31, 2020, we managed to attract over 23k new users, which is 500.08% higher compared to December 31, 2019 to May 31, 2020. Of the 23,000+ users, over 20.5k new users came via organic search. A hockey stick growth, indeed! A huge percentage of these new users (over 5.54k users) came from the United States.
Key Takeaway
The client asked us to help them increase their search visibility for their new website. With our content strategy, their website did not just attract thousands of organic clicks but also increased their site's domain authority and helped boost their email list to 19,000. Ultimately, it pays off to entrust content to a team who knows their craft.
Activate Content Studio helps businesses increase their organic search visibility through highly targeted content. Learn more about our content writing services and content strategy services.
Get your winning content now. Contact us!