There are so many content writers you can find online. While your options are endless, the right candidate is hard to come by — one who understands your business inside out, who can help you meet your goals, who has the business partner mindset.
To hire a content writer with these qualifications, you need to go beyond the candidate's basic content writing skills and experience. Here are four questions to ask your candidates:
1. Does the content writer follow a standard content creation process?
Only sophisticated content writers have developed a process they follow before, during, and even after content creation. As you know, writing is a creative skill, and therefore many sit and wait for inspiration to strike before doing. Big mistake! Having a tried-and-tested content creation process ensures everything is in place, thus avoiding missed deadlines.
There's no hard and fast rule in content creation. For what it's worth, mine involves three phases: pre-writing, actual writing, and post-writing.
The most important pre-writing activities include:
Keyword research (finding the most valuable keywords your audience uses to look for information online)
Outline mapping (creating a detailed content structure)
Brand assimilation (adopting your branding, style, tone, and voice)
Depending on how competitive the subject is, I might do a competitor analysis to see what the competitors are doing.
The actual writing process is more than just grammar, punctuation, spelling, and structure. Part of it is the writer's ability to optimize their draft with the right keywords as natural as possible. A big bonus is if the writer has a repository of royalty-free images outside of common stock photo websites like Pixabay and Unsplash.
The post-writing activities are not always required but are good to have, depending on client specifications. These may include taking the content to the content management system (CMS), publishing it, and sharing it via social media channels. Afterward, I usually submit the URL to Google Search Console (GSC) for indexing and then monitor the content's performance via Google Analytics (GA), given I have access to these tools.
Related: How We Drove 20.5k Organic Visitors in 5 Months from Scratch [CASE STUDY]
2. Does the content writer use tools to ensure quality?
A regular tech stack is something only savvy content writers have. Some writers, however, don't have the most comprehensive toolkit. But if they have the basics, they're good to go.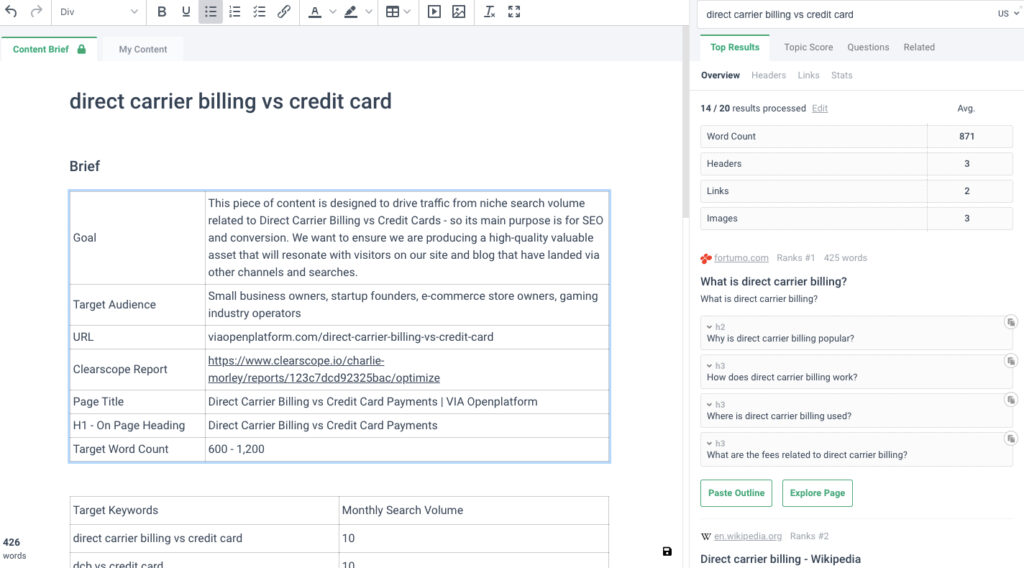 A good freelance content writer should at least have access to Grammarly and Copyscape. You know the writer is serious about their craft when they invest in tools that make their content more compelling and effective. I, myself, spend hundreds of dollars per month on tools alone. Here are some favorites that I use quite often:
Frase – an on-page optimization tool where I load most of my blog posts and articles for optimization
Trello Workspace – a project management software where I organize all my content writing projects
Grammarly Premium – a grammar, style, and plagiarism checker that I use for all our content/copy
Copyscape – a plagiarism checker I use in addition to Grammarly's
Hemingway Editor – an app that checks lengthy, complex sentence structures and paragraphs
ProWritingAid Premium – a grammar, style, and plagiarism checker that works a bit different from Grammarly
Keywords Everywhere – a Chrome extension that enables me to find relevant keywords and search volumes as I search them
Note: These are often used for content writing projects. I use a few different tools for my copywriting projects.
Related: Got a Content Marketing Campaign? Ask These 10 Questions First!
3. Does the content writer possess key supporting skills that can benefit your business?
Writing web content is more than just stringing words together. Many traditional writers (those who have no experience writing specifically for the web) don't know, say, what on-page optimization means and how important it is to earn organic search visibility. On-page optimization is just one of the few supporting skills you should look out for when hiring a content writer. You might also want to consider the writer's keyword research skills, content management skills, and knowledge in data analytics tools like GSC and GA, among others.
Sure, these things can be learned while the writer is on the job. But it pays to have someone who you don't have to spend hours on just to walk them through the process.
Related: 7 Steps to Build a Winning Content Strategy for Your Business
4. Have the content writer contributed results to their past clients/employers?
Experience is one of the most important factors for some when they hire content writers. If this is the case, ask how the writer had contributed to their past clients or employers. The best content writers don't just construct cool sentences. They often have a business partner mindset; they think about how their work can bring results. If the content writer had delivered results to past clients, you know that they could get you the same results.
Related: 8 Surefire Ways Content Marketing Helps Small Businesses
Ready to Hire a Freelance Content Writer?
To find the best content writers, go beyond the person's content writing skills. Millions of people out there can write blog posts and articles and any other type of content. But by asking these questions, you can guarantee to hire a content writer who's right up your alley.
Remember, the best content writers often don't come cheap. Some companies think they can get a knowledgeable, competent, and timely content writer for 5 cents per word. While it's possible, they are hard to come by.
Need results-driven content? Contact me or book a 15-minute FREE clarity call on Zoom.